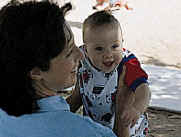 Congratulations!
If this is your first child or not, a newborn means many changes for you and your family. To ensure that the little one gets off to a good start, you need to enroll him or her in your health insurance program within 60 days from the date of birth. To minimize any denial of claims you should enroll the child as soon as possible. To enroll your child, contact Human Resources at (937)382-5591 ext. 62157. Human Resources will approve your request to open a form to add your new baby on Employee Self Service. You will need to send a copy of the birth certificate to the address below.
Send the Birth Certificate to:
Mailing Address: ABX Air Inc.
Attn: Human Resources 2061H
145 Hunter Drive
Wilmington, OH 45177

Copyright © 20015. ABX Air, Inc. All Rights Reserved.
Please see ABX Air, Inc.ís terms and conditions for use of this web site.
Revised: August 11, 2015.