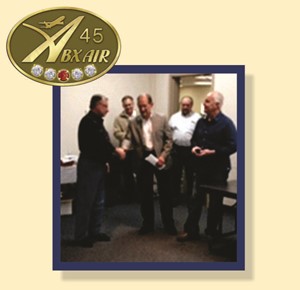 EMPLOYEE RECOGNITION
Maintenance Controller Steve Veness became the first ABX Air employee to reach a remarkable milestone—45 years of service with the Company. He reached the anniversary on his retirement date.

Other employees celebrating milestone anniversaries in April included Field Supervisor John Kondratick and Captain Anthony Pogribnichenko with 30 years of service, Regional Manager East Fasiel Flash with 25 years, Professional Load Master Isadore Sylve III with 10 years, and First Officer Jonathon McKinnon with 1 year of service to the company. Thank you!
Employees celebrating retirement during the first quarter of 2019 included Manager of Maintenance Control Tim Borror, Line Maintenance Representative (JFK) Michael Finn, First Officer Greg McDowell, Captain Stephen Page, Captain Larry Strom, and First Officer Bryan Windham. Congratulations!
SILVER WINGS OF EXCELLENCE
Jeff Constable, Project Coordinator, was recently recognized by Rob Davis, Director of Maintenance & Technical Services, with the Silver Wings of Excellence Award. Jeff has on multiple occasions over the last year provided outstanding support during our aircraft heavy maintenance checks. His extensive avionics knowledge and experience has been instrumental in the installation of several major avionics modifications. His onsite presence and troubleshooting ability has greatly reduced our out of service time related to avionic work during heavy checks.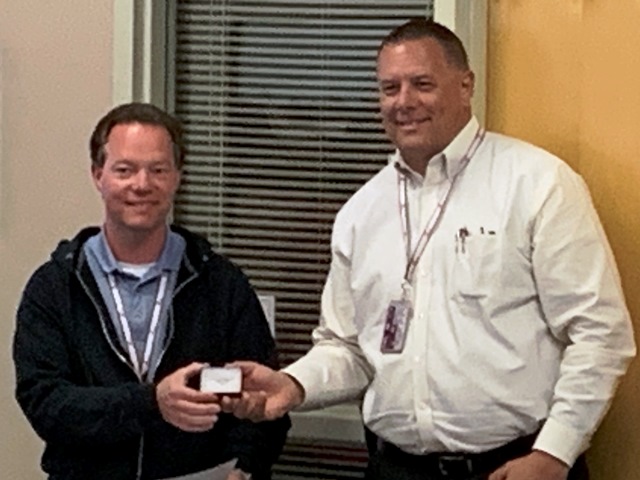 "Jeff has demonstrated outstanding knowledge, leadership, and teamwork during his work. His clear and concise communications with all departments across multiple vendors has been critical to our success," Rob Davis noted. "Jeff's expertise and knowledge is unmatched; but it is his attitude and willingness to go the extra mile that sets him apart from his peers."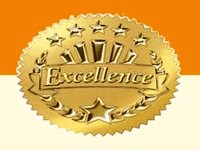 FAA AMT DIAMOND AWARD OF EXCELLENCE
For the second year in a row, ABX Air has received the prestigious FAA AMT Diamond Award of Excellence for excellence in Aircraft Maintenance Technician (AMT) continuous training. To qualify for the award, 100% of eligible AMTs must complete and pass specialized, continuous training in aviation maintenance, regulations and FAA rules. Individual AMTs are eligible to receive an individual award by completing 12 hours of additional education and training.
Vice President of Aircraft Maintenance Phil Flowers commented: "This award recognizes the dedication of our Aircraft Maintenance Technicians to their skills and craft, and providing a safe operational environment. I am proud of this accomplishment and offer my heartiest congratulation to every ABX AMT."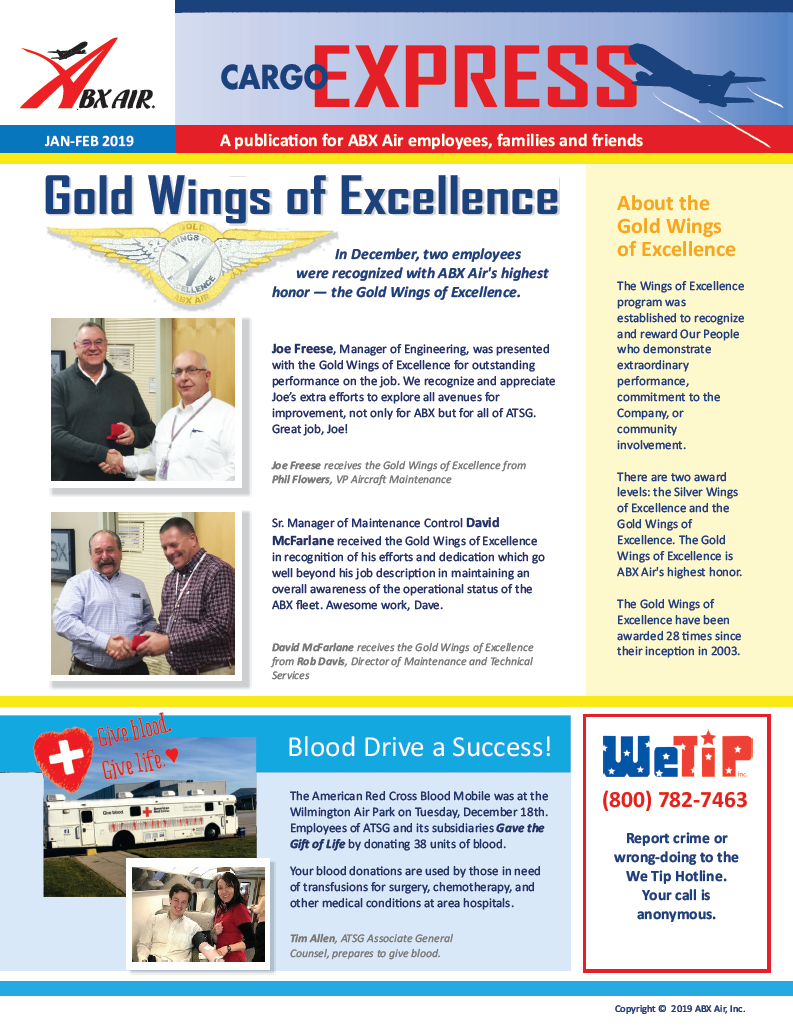 2019 GOALS
The company has established a series of important goals for 2019, including providing on-time service, reducing delays, reducing injuries, completing anaudit renewal, and implementing the weight & balance system. Read the lastest update on these goals in the latest issue of ABX Cargo Express.
SAFETY IS A CORE VALUE AT ABX AIR [abxnet/safetynet]
We are serious about safety. Our objective is to be 100 percent accident-free. We care for one another and always practice safe work habits. No person will be put at risk to achieve our goals.
Here are some recent safety updates:
The FOQA Monitoring Team (FMT) analyzes flight data for our fleet of 767 200s and 300s. In the past several years the FMT has done specific analysis on stabilized approach trends. A goal was set to reduce the unstabilized approaches by 15% in 2018 and the pilot group exceeded the goal! Nice Job!

The flight ASAP program analyzes trends based on pilot-submitted safety reports. The flight ASAP Event Review Committee (ERC) is currently evaluating reports in which a course deviation may have taken place in flight. Through pilot awareness and other mitigation strategies, the ERC set a goal to reduce our occurrence rate by 10% in 2019.
ABX AIR SAFETY AWARDS
As part of the expansion and implementation of our Safety Management System (SMS), ABX Air has initiated a Safety Award Program, in which exceptional contributions to Safety are recognized and rewarded. It is our goal to grow continuously in the areas of Safety and our Safety culture. Part of this growth is the recognition of work that epitomizes the ideal.
GIRL SCOUTS 100TH ANNIVERSARY GALA
Recently, Regional Manager Fasiel Flash and his wife Carolyn attended the Girl Scouts of Nassau County (NY) 100th Anniversary Gala celebrating 100 years of empowering girls to break barriers and create positive change. Flash and his wife were guests of Red Alexander, Vice President of Aviation for DHL Express Americas.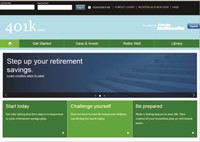 UPDATE YOUR 401K BENEFICIARIES [401k.com]
Make sure your 401(k) beneficiaries are up-to-date. Please review and update your 401(k) beneficiary if needed. Go to the Fidelity 401(k) website at www.401k.com, log in and select PROFILES and BENEFICIARIES. It's that easy. You should review your beneficiary at least once each year and whenever you have a major life event such as marriage, divorce or a new child.

EMPLOYEE DISCOUNT MARKETPLACE [beneplace.com/ATSG]
The Employee Discount Marketplace, our new discount program, helps you save on products and services you use every day! Administered by Beneplace, this discount web site provides a platform where you can easily research, shop for, and purchase products and services from some of the world's foremost companies. Discounts vary by each provider, and each provider page will list their specific discounts, eCoupons and limited-time offers. The Employee Discount Marketplace is open to all ATSG employees and their family members. Visit www.beneplace.com/ATSG to create an account.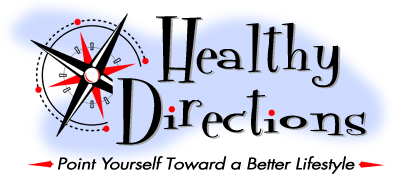 HEALTHY DIRECTIONS [myabx.com\wellness]
Our Healthy Directions wellness program offers employee-purchased Fitbits (walking pedometers) and UHC-sponsored programs Real Appeal and (NEW for 2018) Rally! Read on for more information about each of these programs.
Real Appeal is a new online weight loss program, now part of our benefit plan. It's a simple, step-by-step program designed to introduce small lifestyle changes over time that lead to healthier habits and long lasting weight loss results. The program is offered at no cost to eligible employees, spouses and dependents over 18, who are enrolled in our medical plan and have a body mass index (BMI) of 23 or higher. Go to healthydirections.realappeal.com to enroll, or visit the Healthy Directions web page or call the Real Appeal line (937.366.2026) for more information.
The Fitbit program encourages employees to walk a daily average of 6,000. Employees can purchase Fitbit products at a discounted rate through HR (by payroll deduction). Visit the Wellness page for a Fitbit purchase form. Other pedometers such as Garmin or Apple are acceptable for this program, but self reporting is required to obtain your Wellness Discount. For more details about the program, contact Tracey Dykes (tracey.dykes@abxair.com) in ABX HR or Christine Cousineau (christine.cousineau@airbornemx.com) in AMES HR, log into Self-Service, Benefits tab, Quick Links, or visit the Wellness page.
For those of you who like to take a walk on your lunch hour or after work, you can download a map of walking routes at ILN with step counts and approximate mileage.
Rally is designed to help you make changes to your daily routine. You get personal recommendations once a survey is completed on www.myUHC.com. Goals are very attainable. You can chose whatever goal you like, or Rally can recommend goals based on a Health Survey you complete. Rally also rewards you for reaching goals met, not to mention when quarterly goals are met, you are then eligible for the quarterly Wellness Discount. For more details on Healthy Directions programs, visit www.myabx.com/wellness or www.myuhc.com.
SERVICE PERFORMANCE [abxnet/service]
Thanks for continuing to work hard to keep our customer service levels high! Controlling the avoidable delays is key to maintaining a high level of service. Take responsibility to help each other. Double-checking your work and making sure the job has been done properly will go along way to prevent avoidable delays.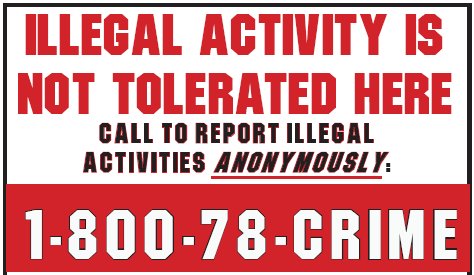 CRIME PREVENTION HOTLINE
If you have information about violations of our Code of Ethics, Corporate Guidelines for Conducting Business, Insider Trading Policy, or regarding the commission of any crime against ATSG or its subsidiaries, please call the anonymous WeTip hotline: 1-800-78-CRIME. A code name and number will be assigned; you will not be asked to give your name. An operator will pass on your tip for investigation.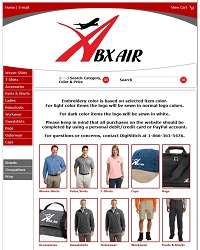 ABX AIR COMPANY STORE [companycasuals.com/abx]
Get your airwear and logo items online at the ABX Air company store, companycasuals.com/abx. Visit the site to browse the selection of high quality clothing and accessories bearing the ABX Air brand.

Note: Production and fulfillment are handled by DigiStitch Embroidery in Waynesville, Ohio. If you have questions about a product or the site, please contact Tim at sales@digistitchemb.com.
RETIREMENT WORKSHOPS
You can participate in online investment and retirement workshops by logging on to www.401k.com and clicking on "Tools & Learning" at the bottom of the page. From there, on the left side of the page, click on "e-Learning". You will find several options to fit your time schedule and educate in the topics you choose.
CAREER OPPORTUNITIES [abxair-jobs.com]
Interesting in exploring job openings at ABX Air? Visit our careers web site at www.abxair-jobs.com!
AT ABX AIR WE VALUE...
Customer Satisfaction, Our People, Quality, Safety, Teamwork, and Trust.