DHL CONTRACTS EXTENDED
ATSG recently announced that contracts with DHL have been extended. DHL and Cargo Aircraft Management (CAM) agreed to extend leases on eleven aircraft through March 2022, including four 767-300s and one 767-200 operated by ABX Air. See the full press release on the ATSG website.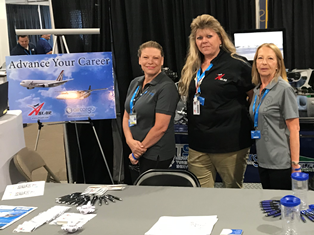 ABX ANNOUNCES PILOT FLOW-THROUGH AGREEMENT
ABX Air recently announced a pilot flow-through agreement with Milwaukee-based air freight company Air Cargo Carriers (ACC). Under the program, experienced ACC crewmembers who meet certain criteria can bypass the interview process and obtain a training class opportunity at ABX Air, contingent on their passing the required background checks.
Pictured at right is ABX HR Generalist Tracey Dykes (middle) with ACC employees Tracy Harris and Terri Peterson at the Oshkosh AirVenture 2019 show promoting the new pilot flow-through agreement.
CAREER OPPORTUNITIES [abxair-jobs.com]
Are you interesting in exploring job openings at ABX Air? Visit our careers web site at www.abxair-jobs.com!
ARRIVING AT ILN: AMAZON


Amazon has opened its regional gateway in the former DHL Sort "F" building. Operations include eight nightly flights along with trucks bringing Amazon Prime packages to be sorted and transported to their final destinations. ABX Air is expecting to see a 50% increase in the number of flights dedicated to the Amazon network.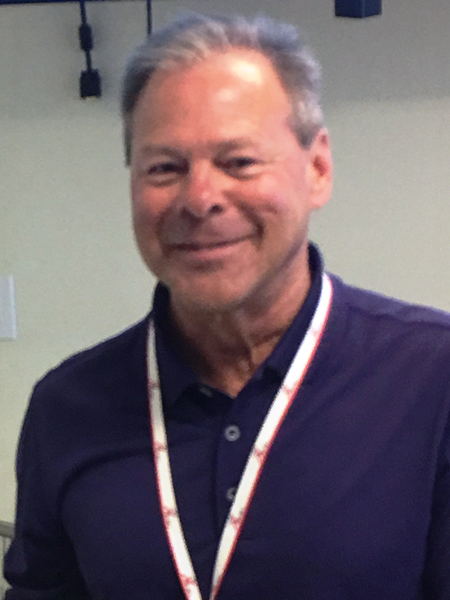 EMPLOYEE RECOGNITION
Director of Business Development Eric Plas recently celebrated his 45th anniversary with ABX Air. Congratulations Eric!

Employees celebrating milestone anniversaries recently included Engineering Analyst Tricia McIntire and Manager of Accounting Tanya Woodford with 35 years; Supervisor Flight Control Training & Standards Mark Wilt with 30 years; Manager of System Control Matthew Bailey and Maintenance Programs Information Technician Ron Spendlove with 25 years; Line Maintenance Representave (HRL) Ismael Rogers and First Officers Mark Belknap, John Cunning, and William Towne with 20 years; Assistant Dispatcher Jeremy Irwin, Sr. Flight Support Specialist Susan Kalezis, and Instructor/Auditor Steven Miller with 15 years; Sr. Crew Scheduler Teresa Finley and QC Specialist Andrew Lawter with 5 years; Line Maintenance Representave (CLT) Louis Gomila and First Officers Caleb Baethge, Lyle Cain, Shadab Nasim, and Andrew Pohlman with 1 year of service to the company. Thank you!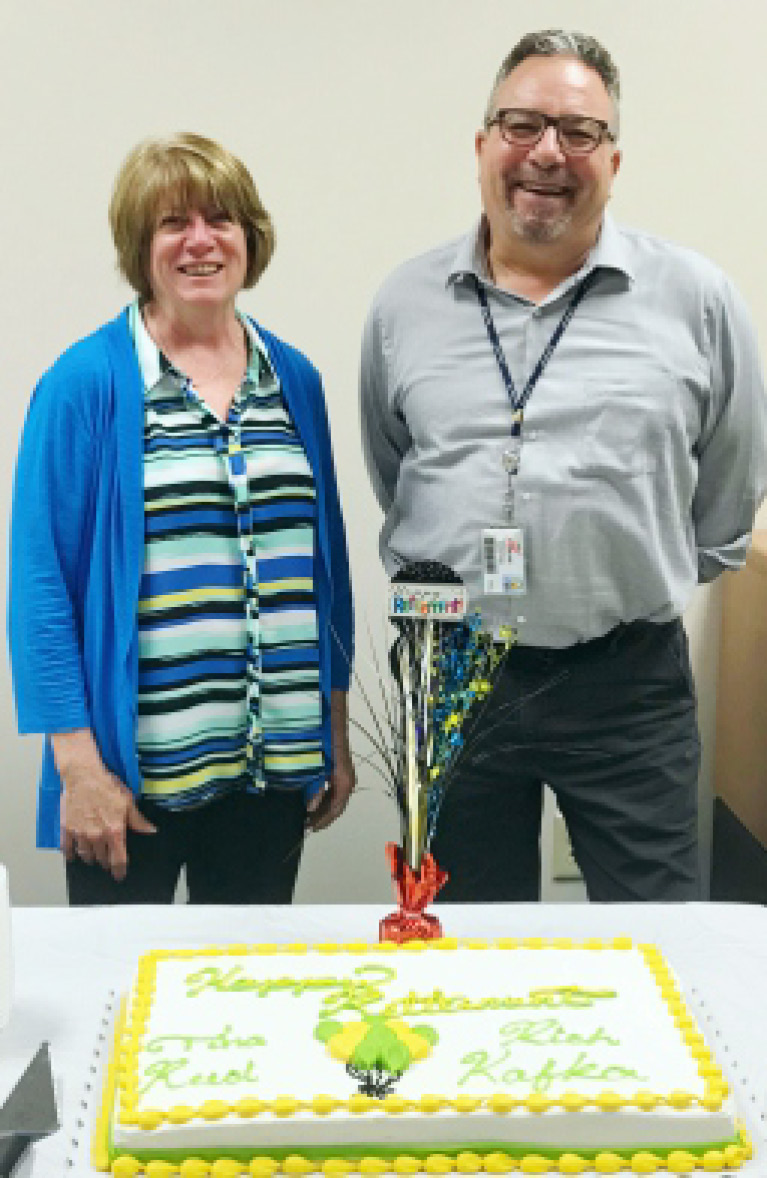 RECENT RETIREMENTS
Longtime ABX Air employee Rich Kafka, Manager of Maintenance Programs, retired after nearly 44 years with the Company. Rich joined Midwest Air Charter (the predecessor of ABX Air) on July 25, 1975. Rich held a number of positions with the Company over the course of his 44-year career. Rich's first job with Midwest was as an A&P Mechanic, followed by Lead, and then Manager of Stores. During his career he also worked as a Manager in Maintenance Control, and Line Maintenance, before becoming the Manager of Maintenance Programs in 2004.

Tina Reed, Human Resources Coordinator/DER, joined the Company in May 1990. She started as a Casual Sorter and then Part-Time Sorter before moving into the Accounting office in 1993. In Accounting, she worked in Accounts Payable and General Ledger before joining Human Resources in 1998. In HR, she worked in Workers Compensaon and as a Compensation Analyst before becoming a Human Resources Coordinator and Designated Employer Representave (DER) for the FAA Anti-Drug and Alcohol Misuse Program. We wish both of these folks a long, healthy, and happy retirement!
WINGS OF EXCELLENCE
ABX employees were awarded the company's top honor recently.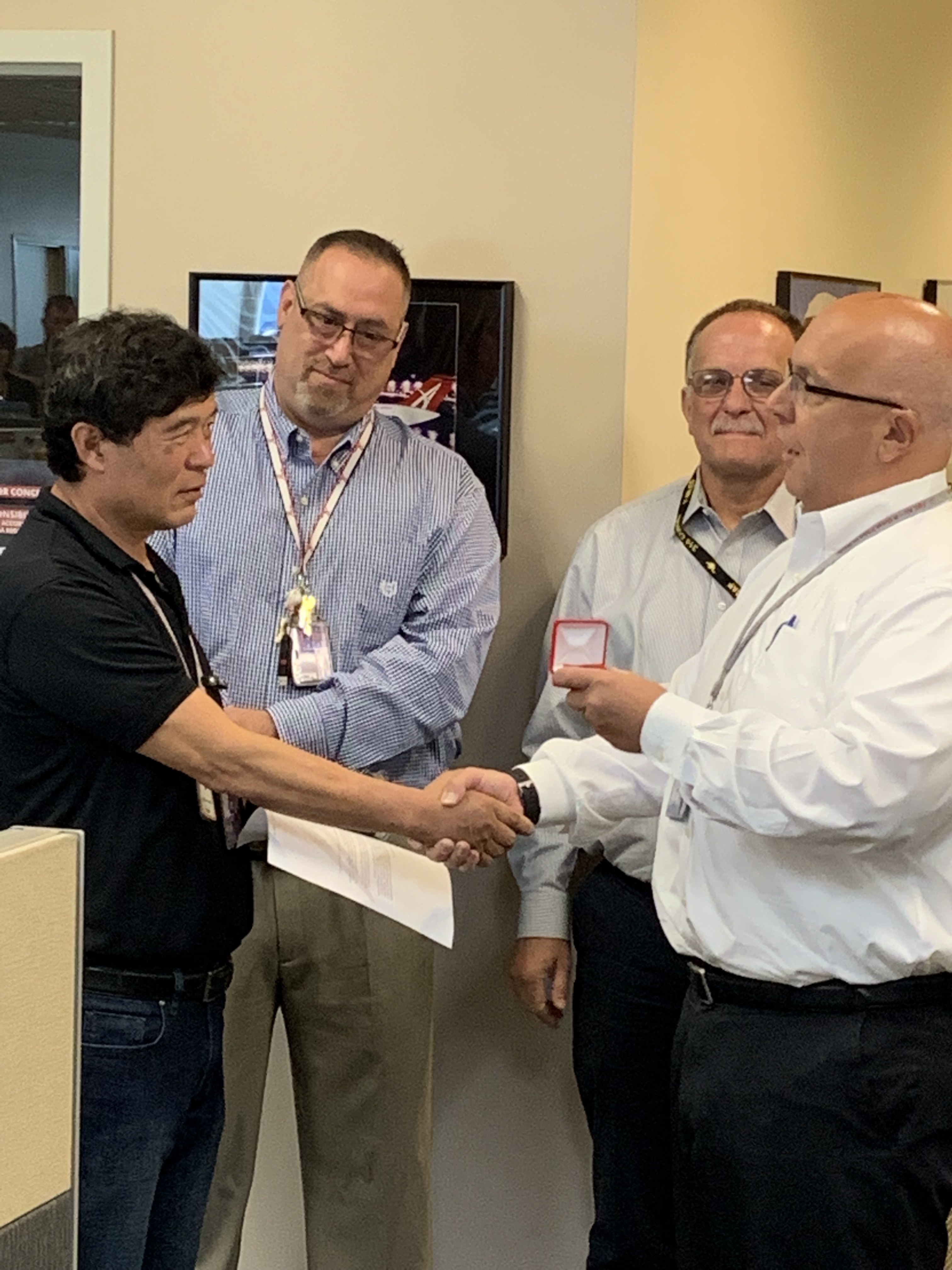 Jong Park, Line Maintenance Specialist, was awarded ABX Air's highest honor, the Gold Wings of Excellence, on June 25, 2019. Jong received his award for his outstanding work supporting the ABX fleet at CVG. Jong headed the Line Maintenance Specialist team at CVG in completing the installation of the ADS-B modification on the final seven aircraft. He organized the tasks to reduce down time by an average of two days. The tasks included removal of the electronics racks, meticulously re-wiring several systems in the rack, and verifying those systems were operational. This allowed the each aircraft to be placed back in service much quicker than planned.

Jong also developed a new avionics test for applicants that evaluate their technical knowledge prior to hiring. Jong has become the go between AMES Engineering and ABX Maintenance Control on all avionics issues and troubleshooting newly installed STCs. Jong also regularly travel to outbase locations to help troubleshoot issues and regularly shares his expertise and knowledge with the local staff to help reduce out of service time. Congratulations Jong!

Jeff Constable, Project Coordinator, was recently recognized by Rob Davis, Director of Maintenance & Technical Services, with the Silver Wings of Excellence Award. Jeff has on multiple occasions over the last year provided outstanding support during our aircraft heavy maintenance checks. His extensive avionics knowledge and experience has been instrumental in the installation of several major avionics modifications. His onsite presence and troubleshooting ability has greatly reduced our out of service time related to avionic work during heavy checks.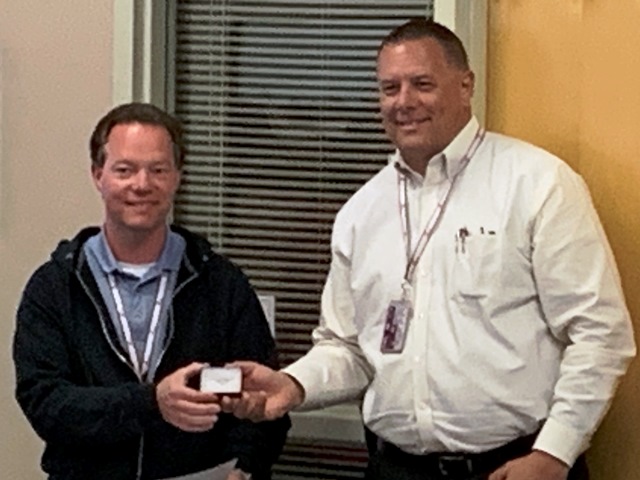 "Jeff has demonstrated outstanding knowledge, leadership, and teamwork during his work. His clear and concise communications with all departments across multiple vendors has been critical to our success," Rob Davis noted. "Jeff's expertise and knowledge is unmatched; but it is his attitude and willingness to go the extra mile that sets him apart from his peers."

COMMUNITY SERVICE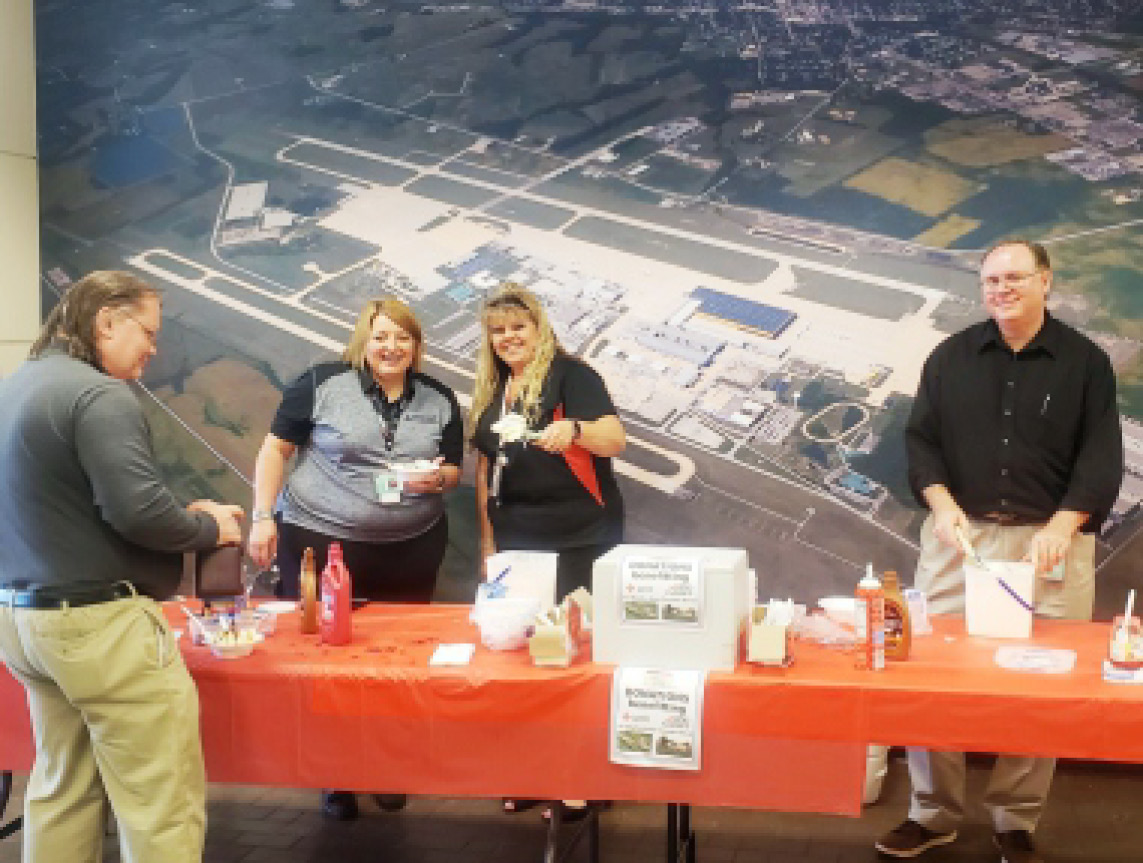 ABX Air employees have been active in our community!

To raise funds to help those affected by tornadoes in the Miami Valley, the employees of the various ATSG companies held an old-fashioned ice cream social. Over $1,500 was raised, with one half being donated to the American Red Cross earmarked for the Dayton Tornado Relief, and the other half donated to the ATSG CaREs program which provides assistance to employees affected by catastrophic losses.

Recently, volunteers from around the Wilmington community, including 70 from ATSG, donated labor to help the City of Wilmington erect a new playground for children. The new structure is designed to look like a castle and replaces the previous structure that was worn out from hard play. Thanks to everyone who volunteered for this worthy project.
ATSG CATASTROPHIC RELIEF FOR EMPLOYEES [www.atsginc.com/atsgcares]
ATSG CaREs provides help for employees who experience a life event that imposes a severe financial hardship on his or her family.

ATSG employees are known for their willingness to help out in mes of need. Whenever tragedy strikes, we receive many calls asking what we can do. The ATSG CaREs fund provides an outlet for those calls and a process to enable a quick and appropriate response to the needs of our employees. Donaons go directly to the ATSG CaREs fund, and in turn, to employees in need.

ATSG CaREs is registered with the State of Ohio as a 501(c)(3) organizaon. Employees of ATSG companies may contribute via payroll deducon simply by compleng a Donaon Form and returning it to the Payroll Department. The Donation Form is available from Human Resources.
MXI REPLACING PMI
For the past 24 months, our Aircraft Maintenance personnel along with their counterparts at ATI, CAM, and the ATSG Information Technology Department have been working with a software vendor toward implementation of a new computerized maintenance system called MXI. At ABX, this system will replace PMI. For more information, read the latest issue of ABX Cargo Express.

SAFETY IS A CORE VALUE AT ABX AIR [abxnet/safetynet]
We are serious about safety. Our objective is to be 100 percent accident-free. We care for one another and always practice safe work habits. No person will be put at risk to achieve our goals.
Here are some recent safety updates:
The ABX Occupational Safety Goal is to have an OSHA Reportable Incident Rate of 2.0 or below. So far this year, January through April, we have not experienced an OSHA reportable injury. This is great news, so please keep up the good work to continue this trend. An important aspect of keeping the injury rate low is completion of OSHA trainings as assigned using Adobe Connect.

ABX recently completed its IOSA Renewal Audit to remain certified on the IOSA registry. The results of the audit cannot be officially released until the IATA review is complete. Nearly 2,000 safety-related questions in Flight, Dispatch, Maintenance, Ground Operations, Security and Organization were addressed in the audit. ABX has been on the IOSA registry since 2007.
ABX AIR SAFETY AWARDS
As part of the expansion and implementation of our Safety Management System (SMS), ABX Air has initiated a Safety Award Program, in which exceptional contributions to Safety are recognized and rewarded. It is our goal to grow continuously in the areas of Safety and our Safety culture. Part of this growth is the recognition of work that epitomizes the ideal.

EMPLOYEE DISCOUNT MARKETPLACE [beneplace.com/ATSG]
The Employee Discount Marketplace, our new discount program, helps you save on products and services you use every day! Administered by Beneplace, this discount web site provides a platform where you can easily research, shop for, and purchase products and services from some of the world's foremost companies. Discounts vary by each provider, and each provider page will list their specific discounts, eCoupons and limited-time offers. The Employee Discount Marketplace is open to all ATSG employees and their family members. Visit www.beneplace.com/ATSG to create an account.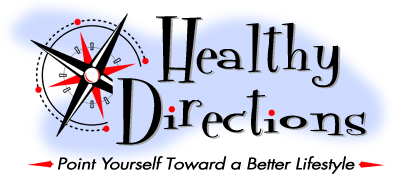 HEALTHY DIRECTIONS [myabx.com\wellness]
Our Healthy Directions wellness program offers employee-purchased Fitbits (walking pedometers) and UHC-sponsored programs Real Appeal and (NEW for 2018) Rally! Read on for more information about each of these programs.
Real Appeal is a new online weight loss program, now part of our benefit plan. It's a simple, step-by-step program designed to introduce small lifestyle changes over time that lead to healthier habits and long lasting weight loss results. The program is offered at no cost to eligible employees, spouses and dependents over 18, who are enrolled in our medical plan and have a body mass index (BMI) of 23 or higher. Go to healthydirections.realappeal.com to enroll, or visit the Healthy Directions web page or call the Real Appeal line (937.366.2026) for more information.
The Fitbit program encourages employees to walk a daily average of 6,000. Employees can purchase Fitbit products at a discounted rate through HR (by payroll deduction). Visit the Wellness page for a Fitbit purchase form. Other pedometers such as Garmin or Apple are acceptable for this program, but self reporting is required to obtain your Wellness Discount. For more details about the program, contact Tracey Dykes (tracey.dykes@abxair.com) in ABX HR or Christine Cousineau (christine.cousineau@airbornemx.com) in AMES HR, log into Self-Service, Benefits tab, Quick Links, or visit the Wellness page.
For those of you who like to take a walk on your lunch hour or after work, you can download a map of walking routes at ILN with step counts and approximate mileage.
Rally is designed to help you make changes to your daily routine. You get personal recommendations once a survey is completed on www.myUHC.com. Goals are very attainable. You can chose whatever goal you like, or Rally can recommend goals based on a Health Survey you complete. Rally also rewards you for reaching goals met, not to mention when quarterly goals are met, you are then eligible for the quarterly Wellness Discount. For more details on Healthy Directions programs, visit www.myabx.com/wellness or www.myuhc.com.
SERVICE PERFORMANCE [abxnet/service]
Thanks for continuing to work hard to keep our customer service levels high! Controlling the avoidable delays is key to maintaining a high level of service. Take responsibility to help each other. Double-checking your work and making sure the job has been done properly will go along way to prevent avoidable delays.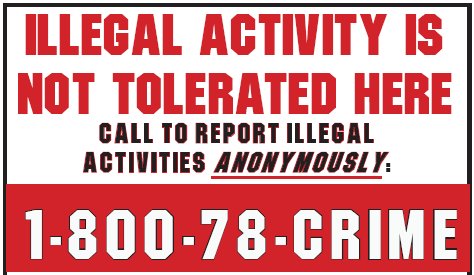 CRIME PREVENTION HOTLINE
If you have information about violations of our Code of Ethics, Corporate Guidelines for Conducting Business, Insider Trading Policy, or regarding the commission of any crime against ATSG or its subsidiaries, please call the anonymous WeTip hotline: 1-800-78-CRIME. A code name and number will be assigned; you will not be asked to give your name. An operator will pass on your tip for investigation.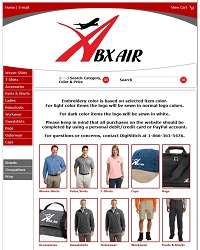 ABX AIR COMPANY STORE [companycasuals.com/abx]
Get your airwear and logo items online at the ABX Air company store, companycasuals.com/abx. Visit the site to browse the selection of high quality clothing and accessories bearing the ABX Air brand.

Note: Production and fulfillment are handled by DigiStitch Embroidery in Waynesville, Ohio. If you have questions about a product or the site, please contact Tim at sales@digistitchemb.com.
RETIREMENT WORKSHOPS
You can participate in online investment and retirement workshops by logging on to www.401k.com and clicking on "Tools & Learning" at the bottom of the page. From there, on the left side of the page, click on "e-Learning". You will find several options to fit your time schedule and educate in the topics you choose.
AT ABX AIR WE VALUE...
Customer Satisfaction, Our People, Quality, Safety, Teamwork, and Trust.